When we weren't in port, we spent most of our mornings in the kids play area.  All these drawers had toys in them – puzzles, trucks, blocks, dinosaurs.  Crayons and markers were usually left out for us to use.   Coop even got some play-doh one morning.  Not many kids on the boat – two other toddlers who rarely came to the play room, two teenagers and a 10 year old.  The teenagers quickly became our favorite and I think they enjoyed us as well.  George played Mario Kart with them quite a bit.
 Here is Coop making himself at home.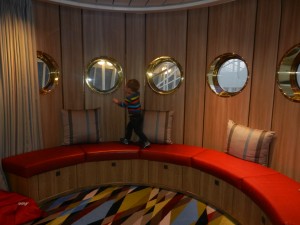 But what Cooper really wanted to do was run across the hall into the Palm Court. We were not allowed to close the doors to the kids area so it was virtually impossible to keep him contained.   The Palm Court was a large U-shaped room with occasional live jazz music.  At the far end was a dance floor.  
Cooper would basically start on one side, run to the dance floor, dance and then run out the other side of the "U."  One of us would have to follow.  Somewhat out of fear of him bothering other people reading or relaxing in the room.  But also out of fear of losing him on the stairs or elevators that were right outside the room.  Exhausting, let me tell you.
By this time of the trip, we have experienced 5 of our 8 or 9 time changes.  Remember we left from Japan and Vancouver is 8 hours ahead.  We had 18 days on the boat and half of those days were "one hour forward" nights.  Four of which were in a row. And because we crossed the international date line, we even repeated one day.  We thought it would be funny if they played "I Got You Babe" from Groundhog Day on the ship news show that morning.  Course 75% of the ship was over 65. so doubtful anyone would get it.  But still, we thought it would be funny.  Anyway, it seems that this method of time change would be easier than losing all 9 hours at once, but after experiencing both, I am not so sure.  It has a way of creeping up on you.  Several mornings, none of us woke up until 10 or 11am.  And several nights, Cooper would not fall asleep until close to midnight.  OY!  Given the atypical sleeping habits of poker players, this probably doesn't seem too disturbing.  But take a kid off his schedule and you unleash the monster within.  A cute little monster, but a monster nonetheless.
Our next port stop was Seward, Alaska.  Our excursion involved a bus ride to Anchorage, stopping along the way at a wildlife preserve.  Beautiful scenery!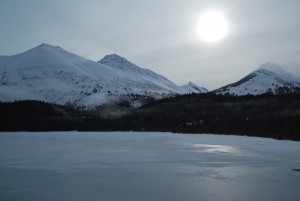 A wild baby moose ran across the road to wake us all up.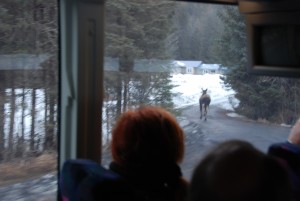 I LOVED this preserve.  The habitats were intentionally made as naturalistic and close to the wild as possible.   The majority of the animals had been injured and, therefore, unable to survive on their own.  Some favorite photos from the preserve…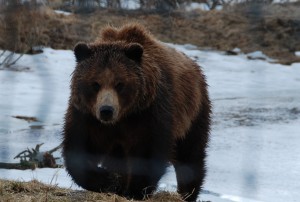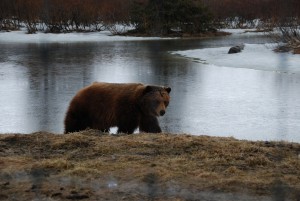 A black bear is eating some salmon that the guide threw over the fence.  You'd expect him to tear into it but he meandered around, circled the salmon for a bit and then just, nonchalantly, sat down and started munching.   The other bear didn't even get up, just laid in his spot and watched.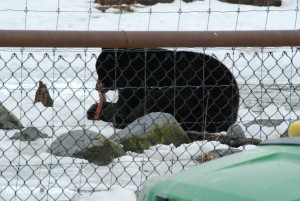 After all that excitement, George and Cooper fell asleep for the rest of the ride to Anchorage.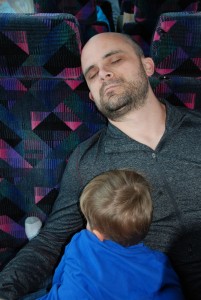 Since much of Alaska is only accessible by water, many residents become pilots and own prop planes.  This is a lot outside the airport where many store their planes.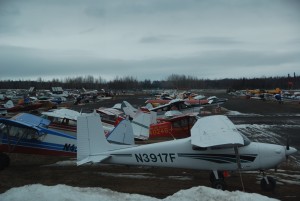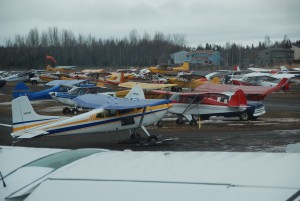 We also saw them parked on the water next to houses.  No garage with a car inside.  Just a plane.  Next to the house.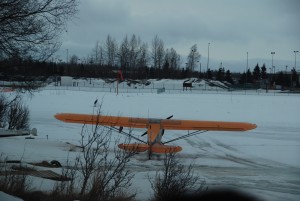 We had a couple hours free time to walk around downtown before getting back on the bus to go back to Seward.  We ate lunch, bought some souvenirs, took goofy pictures and took Cooper to a kids museum.
On our way to Ketchikan, the boat sailed through Glacier Bay National Park.  This was a surprise for us.  Meaning we knew nothing of this when we boarded the ship.  We would hear a crew member mention something here and there.  And the mentions grew in number the closer we got to the area.  Turns out, we were spending a whole day cruising through this park.  It was beautiful and really ended up being a fun day.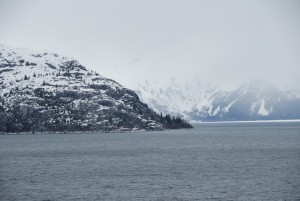 Early in the morning, as we entered the park, the ship boarded two park rangers for the day.  They were explaining over the intercom what we were looking at from time to time.  Hey, that tiny speck over there is a mountain goat.  Or explaining the difference between glacial ice and regular ice.  Which is to say that glacial ice is blue.  So the object of the day was to point out the blue ice to all around you.  LOL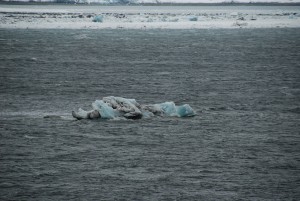 Which is probably what I am doing here.  "Ooooh, blue!"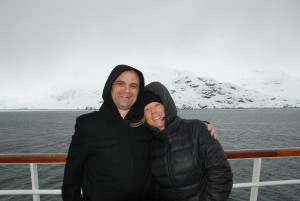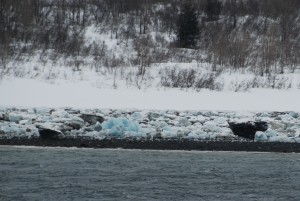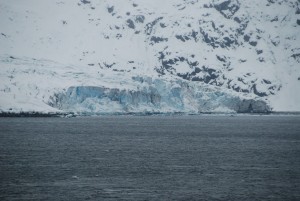 Our way of expressing that it was quite windy on deck.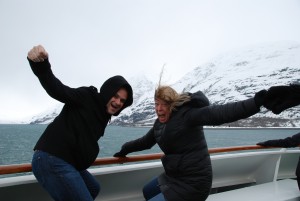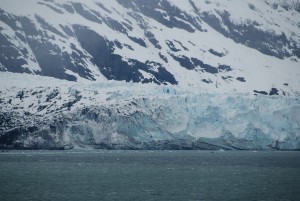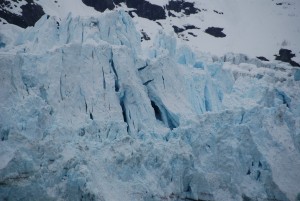 And the other highlight of Glacier Bay was the wildlife.  Slightly disappointing because we should have seen whales but, of course, we saw none.  Everyone else was on the lookout as well.  You would hear "ohhh, ohh whale!" from across the room and all would go running over to find out that it was a log or something.  Only one of these instances proved to be actually true and by the time I got there, he was gone.  Sigh.
But we did see a few otters and sea lions just relaxing in the water.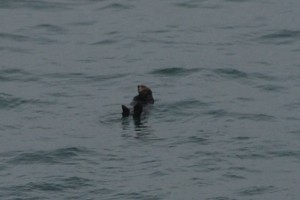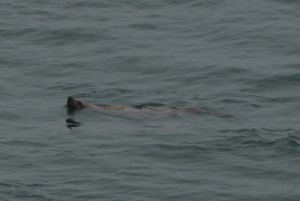 One more leg of this trip to go!